Has hosted an average of 100 events each year
LOUISVILLE, Ky. (June 4, 2014) — A study just released by an international consulting firm, Conventions, Sports & Leisure International (CSL),  found that the KFC Yum! Center, Louisville's downtown arena, has had a positive economic impact since its opening in 2010.
Key findings of the CSL study on the KFC Yum! Center (arena):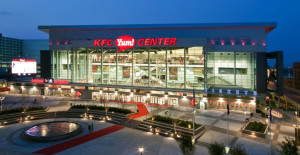 The KFC Yum! Center is located in downtown Louisville.
♦ The arena generated an estimated economic impact of $347 million in direct spending and $580 million in total output in its first four years in operation supporting 8,400 full and part-time jobs.
♦ The arena has evolved into a multi-faceted sports, entertainment and event venue, hosting an average of over 100 events annually.
♦ The Yum! Center arena has attracted events that generate economic impact and enhance the entertainment options and quality of life of area residents.
♦ The arena has contributed directly to a stronger Louisville economy by increasing visitation to and spending in the city and supporting jobs.
♦ Between 24 and 44 percent of attendees for non-convention events at the arena are from outside the Metro area.  For convention events at the arena, this number increases to 96 percent.
♦ 97 percent of non-local attendees to the arena events for concerts and shows indicated that the event at the arena was their primary purpose for a visit to Louisville.
♦ While convention attendees stayed overnight in Louisville 99 percent of the time, non-local Yum! Center visitors stayed in hotels between 11 and 26 percent when attending a ball game, concert or family show at the arena.
♦ On average, a non-local arena visitor attending an event spent $118.22 and $143.38 for a concert or family show.  This number grew to $278.81 for convention delegates.
"I like to be data informed – so I see numbers as tools to tell the story," said Mayor Greg Fischer. "Numbers don't have agenda. They just give us a good view into what's happening on the ground, whether what we're doing is working, whether our efforts to help our community and help our citizens are making a difference. This is a day to celebrate the arena and its many successes."
The commission of the Louisville Convention & Visitors Bureau collaborated with the Louisville Downtown Partnership to fund the study.
"Louisville currently hosts 12.7 million visitors a year feeding a $1.4 billion tourism industry. We commissioned this study to demonstrate how the KFC Yum! Center plays a role in tourism growth," said Karen Williams, president and CEO of the Louisville Convention & Visitors Bureau.
"It is important to us to know the impact of this facility as we work with our partners in the hospitality industry on how best to fill the venue and help market its offerings in order to drive traffic to our destination."
The Lane Report