LOUISVILLE, Ky. (WDRB) — There was nothing particularly eye-popping about the 1950s-era, three-bedroom ranch house in Hikes Point.
But after it hit the market earlier this month for $118,900, it took only three showings for the house to fetch two offers.
"I knew I just couldn't sit on it and wait because someone else could make an offer," said Chris Stapleton, who now has a contract to buy the home.
Stapleton, who works in retail management and has rented an apartment the last five years, said she liked the home's big back yard and spacious master bedroom – and she decided she could live without a second bathroom.
Martha Hemminger, the Re/Max agent who listed the house, wasn't surprised it took only three days for it to go under contract.
"That is typical of the market right now," she said.
In fact, Louisville-area buyers have the fewest choices of homes for sale in at least a decade, according to figures from the Greater Louisville Association of Realtors, which covers mainly Jefferson, Oldham and Bullitt counties.
In August, 31 percent more homes went under contract compared to a year earlier, while 20 percent fewer homes were on the market, according to association figures.
At the current sales pace, it would take less than four months to sell every home on the market. That means the market is tipped in favor of sellers, as agents consider 6 months of supply to be "balanced."
Five years ago, the market had about 10 months of supply – and the number had been as high as 18 months during the worst of the housing downturn in January 2009.
Meanwhile in southern Indiana, "we definitely don't have enough inventory" of homes for sale, said Glenda Gasparine of the Southern Indiana Realtors Association – though the association couldn't provide comparable figures.
Agents and economists say the shortage shows the lingering effects of the 2007-2009 recession.
New home construction has been suppressed for seven years in the greater Louisville area, and builders are putting up new houses at only about 60 percent of the rate before the downturn.
Chuck Kavanaugh, CEO of the Building Industry Association of Louisville – which represents home builders – said new home construction may never return to highs of about a decade ago.
Still, Kavanaugh said he's at a loss to explain why more homes aren't being built given this year's rising sales and prices.
"I've been seeing this (and) thinking, 'What's up?'" Kavanaugh said. "I do not think it will be too long."
With wages still lagging job growth, more people are renting – which means homes that might have been sold in years past are now rented instead. Jefferson County's homeownership rate is down from about 66.5 percent in 2007 to 61 percent last year, according to the Kentucky State Data Center.
Indeed, developers constructed more apartment/condo units than single-family houses in Jefferson County from 2012 to 2014, building permits show.
And nationally, people are staying in their homes longer. In 2014, a survey showed owners keep their homes for 10 years on average, up from the previous norm of seven years, said Lawrence Yun, chief economist for the National Association of Realtors.
Yun said that's partly because homeowners who bought at inflated prices before the downturn are holding out for "the full price recovery" before trying to sell again.
The shortage of homes for sale isn't unique to Louisville. Nationally, the supply of homes has been stagnant – at about five months' worth – for the last two years, Yun said.
Shortage increases competition
Agents say the shortage is most visible in traditionally desirable neighborhoods inside the Watterson Expressway – the Highlands, St. Matthews and the up-and-coming Germantown.
Harry Borders, an attorney who specializes in real estate closings, said bidding wars have become more common this year, and some sales have been delayed or fallen apart because the lender's appraisal does not support the contract price.
"Buyers' offers are much more aggressive than they have been," Borders said.
In cases in which the buyer bids more than the home's asking price, Borders said he advises sellers to require that buyers prove they can make up the difference between the asking price and their offer in cash. That way, the sale  will stand even if the appraisal doesn't support the higher price, he said.
This summer, Hemminger listed a modest house on S. Shelby Street for $140,000 on a Sunday evening, and within 24 hours the house was under contract for $145,000.
To be sure, market-wide trends can mask important differences between neighborhoods, or even between streets, and agents say not all homes are being snapped up quickly.
"There is no question that we have low inventory, but it can give certain people false hope," said Judie Parks, principal broker at Berkshire Hathaway Home Services Parks & Weisberg and president of the Louisville Realtors' subsidiary that operates the Multiple Listings Service.
As always, the condition of the home is important, and some sellers "don't want to go through what they have to go through to get the offer that they want," Parks said.
Hemminger said she's baffled that another of her current listings – a four-bedroom, $350,000 home in Norbourne Estates near St. Matthews – didn't sell at the original $400,000 asking price.
But in general, the shortage of homes for sale has had predictable effects on the Louisville market: prices are up, and houses are selling faster.
The median sales price for the Louisville association was $156,000 through the first eight months of the year, up from $145,625 during the same period last year. Homes have been on the market for an average of 90 days so far this year – including breaks and re-listings.
That is fewest days for at least 10 years, according to association figures.
In Southern Indiana, the median sale has been $134,900 so far this year, up from $125,100 during the same period last year.
In Louisville, the price gains have been distributed fairly evenly across neighborhoods, according to association data for the first six months of the year, compared to the same period in 2014.
Shelby County (median price $175,000), the Iroquois Park / Auburndale / Fairdale area ($105,900) and the portion of Oldham County south of I-71 ($249,500) saw the biggest price gains in that six-month period:
Louisville home prices by MLS area, Jan-June 2015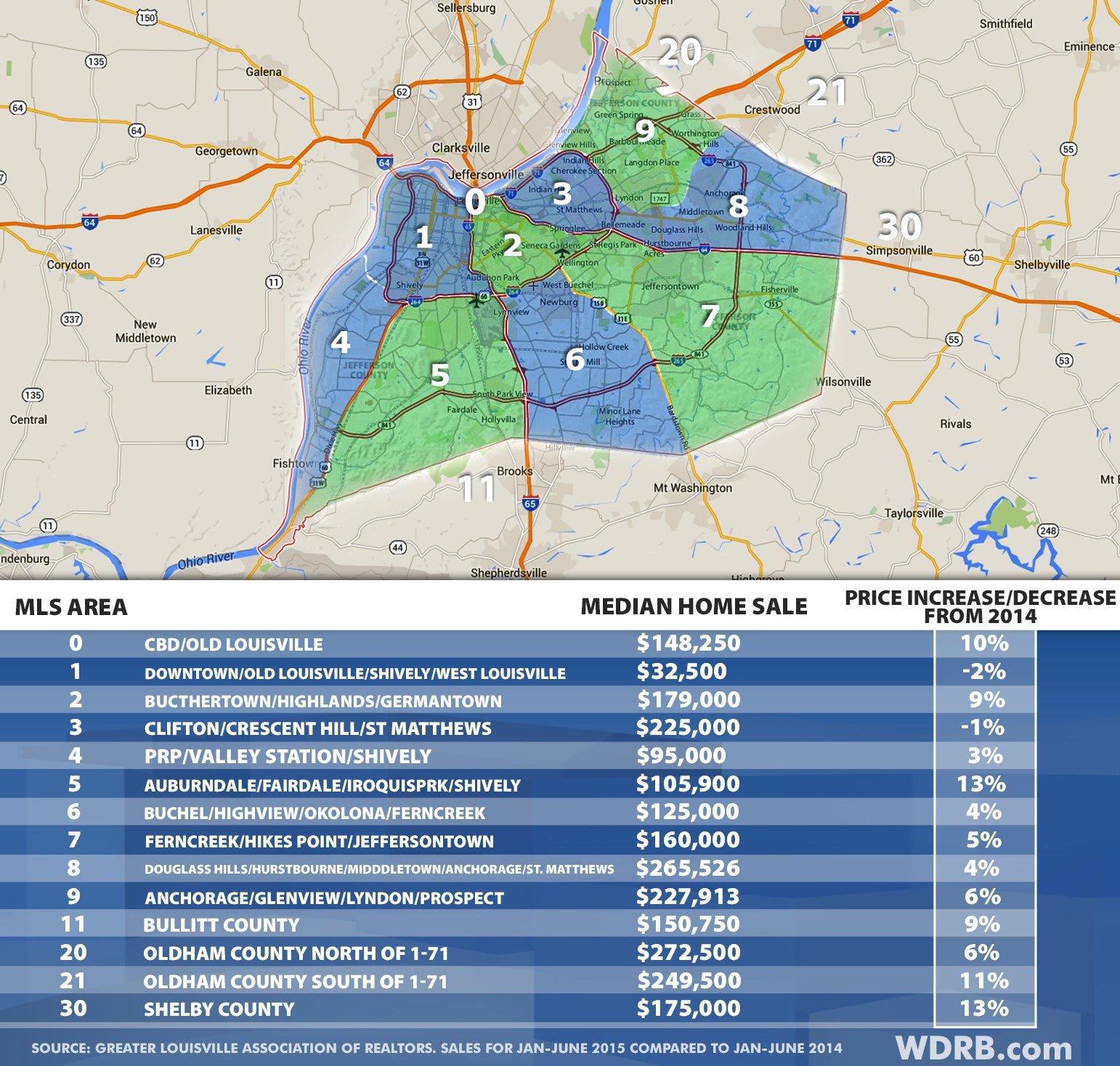 Still, it might take several more years of rising prices for people who bought before the downturn to feel they can sell for enough to be "made whole," Parks said. She noted that the Louisville market didn't turn around until the end of 2011.
Stapleton, the buyer of the Hikes Point house, owned a home years ago in eastern Kentucky and was a little "gun shy" about once again taking on the responsibility – lawn mowing, maintenance – that comes with owning.
But with the apartment market tightening, the rent on her two-bedroom unit near Oxmoor Center had "steadily gone up and up" to about $1,200 a month – whereas she expects her mortgage to be about $780 a month even with a low down-payment of 3.5 percent.
Not all renters can easily make that same transition back to owning.
Brian Bates, senior vice president at local mortgage lender Wilson & Muir Bank, said new regulations from federally backed mortgage buyer Fannie Mae, for example, generally require that borrowers be at least four years removed from "adverse credit" events like a foreclosure or bankruptcy to get a conventional loan.
"Those people aren't ones to jump back in right away," he said.